cfsmtb in low earth orbit
:: at my command unleash hell :: opps meant kittens, not hell ::
Archive for June, 2008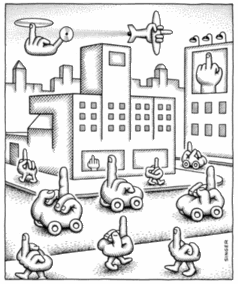 Have a Captain Cook at this commentary from the US of A:
CNSNews.com: The Threat to the Car
Recent evidence that automobile use is declining in America and that some Americans are making significant — and in some cases not readily reversible — changes in their lives because of escalating gas prices should be worrisome signs for those who love liberty.

No device is more in keeping with the American spirit than the automobile. Privately owned cars and trucks allow us to go where we want, when want. They are freedom machines.
Cripes. Better hide that subscription to ReNew before the AFP kick the door down.
Still, some liberals would like to use government to force Americans out of their cars.

They believe in socialized transportation, not free-market transportation.

In a free-market transportation system, a person purchases his own vehicle with his own money, buys his own gas with his own money and can drive his vehicle anywhere there is a road — and, if he has the right kind of vehicle, some places where there are no roads.

Admittedly, the roads generally are constructed by government, albeit with funds extracted from the earnings and gasoline purchases of drivers.

In a socialist transportation system, the government takes the taxpayers' money and purchases vehicles — often buses or trains — for itself or a government-funded agency. Where and when these vehicles go is determined by the government.
Well I'll be fucked. Mystery solved, thats where the Doncaster train went.
In a free-market transportation system, a person travels solely in the company of people with whom he has freely chosen to travel. In a socialist transportation system, a person may be compelled to travel in the company of people he does not know and who could even be a danger to him.

I have no doubt that most Americans who love the freedom of movement they derive from owning and operating a car or truck have recognized efforts by various levels of government to induce them to stop, or limit, their driving and cajole or compel them to leave the free-market transportation system and submit to the socialist transportation system.
Yeah, actually public transport shits me at time too, but not to the paranoid extent this chap seems to be chewing hard on. I'll spare you the rest, read the entire article at the link supplied above. But you do need to peruse this bit:
Hopefully, the 8 percent who have taken to socialized transportation represents a trend that can be reversed.

We should drill our own oil — now. And, when the supply naturally diminishes to where prices drive the market elsewhere, American entrepreneurs must create another fuel whose production the government cannot readily curtail, and that keeps Americans driving where they want to, when they want to, in privately owned cars.
You should kiss your arse goodbye — now.
Luckily in retrospect bicycles weren't mentioned in this commentary, as anything to the right of Genghis Khan is probably a Castro aficionado to T. P. Jeffrey. I was going to attempt a reasonable deconstruction of steaming pile of denial bollox, but my personal time is probably better utilised by finishing up a delicious homebrew stout and basking in the glow of a reasonably pleasant day that avoided the EastLink muppet ride.
Matthew Bellemy has turned 30. Well done young man, take a bow. I'm a bit long in the tooth to be a Muse fan chick, but am thankful for all those arpeggios that have renewed my interest in music of late. Now if only I could of attended all of the Sparks Concert series ones, one life goal would be complete. Oh, ok, and finish a Paris-Brest-Paris in under 85 hours, then my life would really be complete if one wasn't half-dead and utterly fucked from the extreme exertion. Although with shrinking oil supplies and overdemand it's bit of a longshot that One Day I'll either do the PBP or see the Maels live in concert. We can only dream.
Or buy the DVDs of somebody else seeing or doing what I wanted to do.