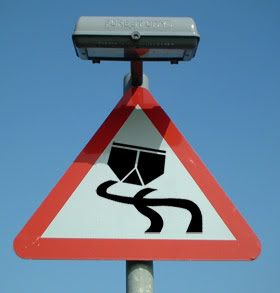 As regular viewers may of noted by now, I'm rather over inane, uninformed naive bullcrap dished up as opinion about the semi-eternal bicycle vs. motorists debate.
So it is with great relish I read online that Paul Pottinger is receiving a right pasting for this bizarre little spleen venting exercise in todays Daily Terror. It's rather dull copy that most people wouldn't even give the dignity of wiping their derrieres with, even if it was presented to them in printed form.
Scores thus far (71 comments)
59: Get over yourself Pottinger.

9: Cyclists, yukky poo!

4: Foot in either camp
Thus also providing much needed evidence that if there is hope, it lies in the Proles. Possibly.
UPDATE: Online article has had todays comments removed, and is not linked from the "Have Your Say" section despite there being 71 comments. FYI – comments still can be found here. Oooooo, who's a bad sport and had a tantie? Sooks!
It's lovely day today in Melboring, and hopefully only two more sleeps until my new RED Met Inferno arrives. Happy days are here again!